Boost your productivity
with a professional dictation solution
The professional SpeechMike microphone takes stationary dictation to a new level. It delivers excellent speech recognition capabilities, an antimicrobial surface for improved hygiene, and refined ergonomics for easy operation.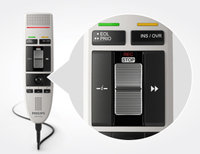 The advanced microphone design and an optimized frequency response rate cater for the best speech recognition results.
The advanced built-in front speaker and the integrated sound card guarantee crystal clear playback of your dictation files.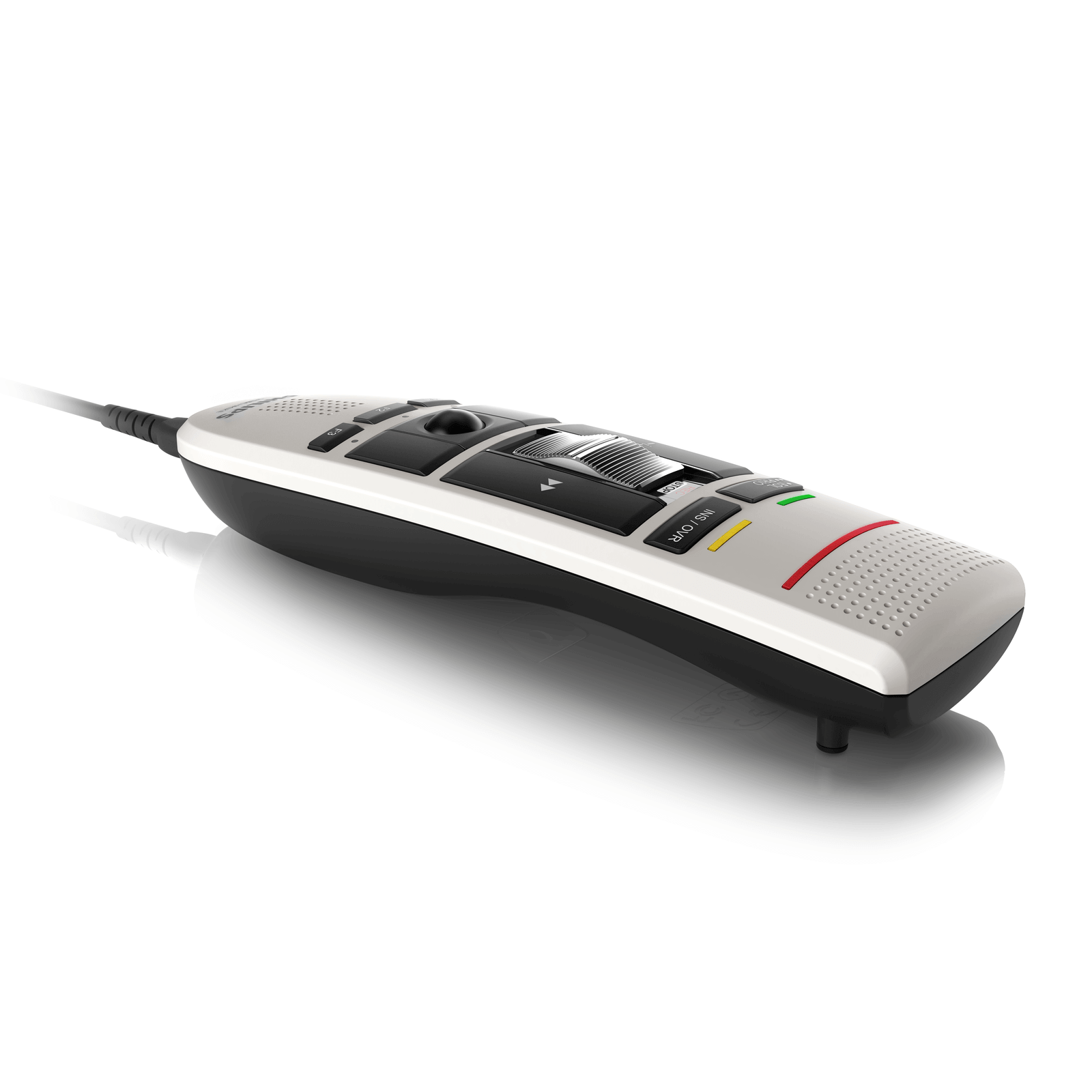 Designed with three ergonomic zones, it has been tested and proven by users to have the most comfortable fit in the human hand. The dictation zone is optimized to keep thumb movement to a minimum and allows for blind operation. The buttons needed for the actual dictation functions take up the greatest amount of space in the central area of the device. Less frequently needed function buttons are clearly arranged above and below. The trackball uses a laser sensor that allows precise cursor movements. It contains an integrated confirmation button for simple control of PC functions and can also be used to control playback volume.
The antimicrobial surface is important for use in a clinical environment. This feature was achieved by adding a substance to the plastic that impedes the reproduction of microorganisms, thus improving hygiene.
The SpeechMike is specifically built to achieve most accurate speech recognition results and works with all the primary speech recognition engines.
SPECIFICATIONS
Connectivity
USB:

USB 2.0, type A (compatible with USB 3.0)
Audio recording
Microphone type:

electret condenser microphone

Microphone capsule:

10 mm

Characteristic:

uni-directional

Frequency response:

200–10 000 Hz

Sensitivity:

85 dB–104 dB (depending on position of mic-slider in sound control panel)

Signal-to-noise ratio:

> 70 dBA
Sound
Speaker type:

built-in round, dynamic speaker

Speaker diameter:

30 mm

Acoustic frequency response:

300–7500 Hz

Speaker output power:

> 200 mW
System requirements for Philips SpeechControl Software
Processor:

Intel dual core or equivalent AMD processor, 1 GHz or faster processor

RAM:

2 GB (32 bit)/4 GB (64 bit)

Hard-disk space:

30 MB for SpeechControl Software, 4.5 GB for Microsoft .NET Framework

Operating system:

Windows 10 (64 bit), Windows 8.1/7 (32/64 bit), Windows Server 2012 (64 bit), Windows Server 2008 R2 (32/64 bit), macOS 10.13/10.12

Graphics:

DirectX-compliant graphics card with hardware acceleration recommended

Sound:

Windows-compatible sound device

Free USB port

Supported speech recognition software:

Nuance Dragon Professional 12.5/13/14/15 Individual/Group, Nuance Dragon Legal 12.5/13/14/15, Dragon Medical Practice Edition 2/3, Nuance Dragon SDK Client Edition 14
Green specifications
Compliant to 2011/65/EU (RoHS)

Lead-free soldered product
Operation conditions
Temperature:

5 °–45 °C/41 °–113 °F

Humidity:

10 %–90 %
Dimensions
Product dimensions (W × D × H):

45 mm × 165 mm × 30 mm/1.8" × 6.5" × 1.2"

Weight:

0.160 kg/0.353 lb

Cable length:

3 m/10 ft
Design and finishing
Material:

antimicrobial housing

Color(s):

warm grey/black
Your microphone comes with
SpeechMike dictation microphone
Quick start guide